CASE
STUDY

Data Analytics Public Company
DEFINED MANDATE
Help drive competitive-edge in new and existing markets. Accelerate the need for the company's services and vital partnerships.  Serve as a catalyst in changing the perception, and increasing the value of data analytics in existing and evolving industries.
TACTICS
Our strategy was to elevate ComScore, a public, data analytics company, from industry perception as vendor to thought leader. Our focus was  driving-competitive edge – via strategic influencer communications and brand elevation to ignite revenue opportunities. We worked directly with co-founder and CEO, Gian Fulgoni. One of our key challenges was to assure his time was used in a streamlined, potent manner. We advised him to focus on targeted influencer media that could be used as an internal/external sales tool while serving as a brand builder.
CNBC: With our high-level contacts and commitment to bring journalistic value of timely interest to the business news outlet's audience, we were able to create a unique, viable exclusive-breaking data news relationship encompassing regular appearances by the CEO – between 12 to 16 times a year. ComScore had added exposure with online availability of CNBC live ComScore segments and teaser promotion of high-concept segments. Our efforts and recommendations enabled ComScore to utilize each of the CEO's appearances as a marketing outreach tool for its clients/contacts and industry publications following our CNBC Exclusives.  During that period, we facilitated the announcement of ComScore's Rentrak acquisition by offering it first as an exclusive to CNBC.
OUTCOME
Our efforts contributed to altering the perception of data analytics, positioning it in media as a dimensional and vivid storytelling news driver; and a business necessity in corporate decision-making rather than an option. Utilizing our long standing media relationships, we facilitated high-profile platforms for ComScore's CEO with powerful industry media and entertainment publications, facilitating strategic alliances. We also brokered relationships with major media, entertainment and tech industry organizations — comprised of top studio, streaming, tech, social media, mobile, and network executives.
Our consistent CNBC television exposure in which we advised on high-concept, promotable, headline worthy data analytics topics such as brick-and-mortar competition verses e-commerce verses mobile commerce; gaming;  top ten online retail sites; OTT competition and multi-platform viewing served as a catalyst in enabling ComScore to obtain contracts with Netflix, CNN, Facebook and others — along with extended international business. Davis Communications Group utilized the CNBC exposure and notoriety to snowball efforts to include awards from multiple industry organizations, keynote speeches and elite podiums including the World Economic Forum. Davis Communications Group also delivered strategic media breaks in select influencer print publications like Barron's.
Over the course of more than three years and nearly four dozen appearances, nine figures of earned media was obtained. Davis Communications Group efforts served as a catalyst in ComScore obtaining new business opportunities.
A sample of high-concept Exclusive Data we helped to facilitate to CNBC producers:
CNBC Q1 2017 Digital Commerce Talking Points
May 2017
Gian Fulgoni
CEO and Co-Founder, ComScore, Inc.
The Retail Channel Shift Continues to Accelerate, Making Life Increasingly Difficult for Brick-and-Mortar Retailers
– The digital-commerce shift has been accelerating over the past few years because of shifting consumer habits and an increase in mobile commerce.
– Digital-commerce as a percentage of total discretionary retail spending reached an all-time high in Q1 of 19%

– Q1 2017 saw $100 billion in digital-commerce spending, up almost 20% vs year ago. This is the first ever quarter outside of the holiday season to reach $100 billion for digital-commerce.
Mobile Retail is Gaining Share and Disproportionately Benefits the Biggest Players in Sector
– Online shopping has already shifted to mobile in a big way, with 66% of time spent online shopping now happening on mobile.
– Dollars have been slower to matriculate to mobile, with m-commerce currently accounting for 22% of all online spending.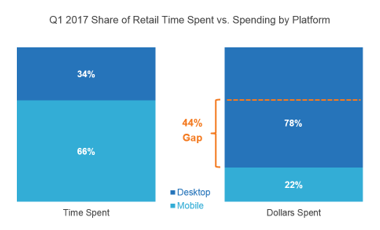 – That said, m-commerce is accelerating rapidly at this stage and the monetization gap is beginning to narrow.
– Mobile disproportionately favors the largest and most well-known retailers due to consumers' increasing reliance on mobile apps, which now account for 78% of mobile shopping activity.
– Amazon, already the outsized leader in e-commerce, is getting an even bigger advantage in the shift to mobile because it has the #1 most used retail app, and the #15 most used app overall. It also sells across product categories, many of which consumers are very comfortable purchasing online.
Smart Speakers: The Next Platform for Retail?
Amazon is by far the most trafficked online retail property overall with 183 million visitors in March – representing 73% of all internet users in the month.
Amazon continues to gain share of digital shopping time, going from 21% in March 2015 to 24% in March 2017.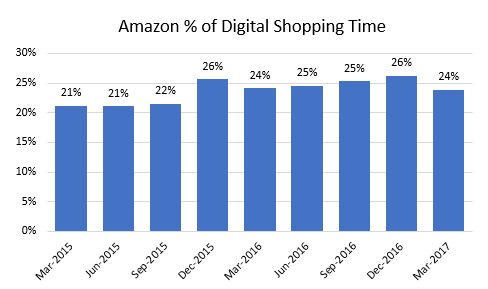 – And Amazon is already staking out its claim to the next platform for online retail, which just may be smart speakers, aka virtual assistants. 8% of homes now have these devices, and Amazon represents about 9 out of every 10 smart speakers owned thanks to its popular Echo Dot device.
– 11% of smart speaker owners say they have used these devices to make purchases, so this is still a nascent behavior – but one consumers are likely to get more comfortable with over time.
– And if that weren't enough, now there's new evidence Amazon is already thinking ahead to the next big opportunity – using virtual assistants to up-end the Apparel industry!
– Apparel is now the #1 digital-commerce category, representing about 1/6th of the entire digital-commerce market. And Amazon just introduced the Echo Look, a new virtual assistant that uses a camera to help users figure out what to wear.