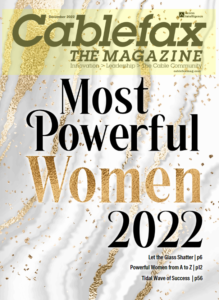 Debra was the only consultant chosen to be included in Cablefax Magazine's Most Powerful Women for 2022 list.
"Those empowered to win see change as a given. And they use it to their best advantage. Agility is essential in any profession. As a consultant my job is to anticipate change on behalf of my clients―how to triumph in any scenario. All business models need to factor change as an approach to excelling irrespective of the landscape."
Debra Sharon Davis

Exclusives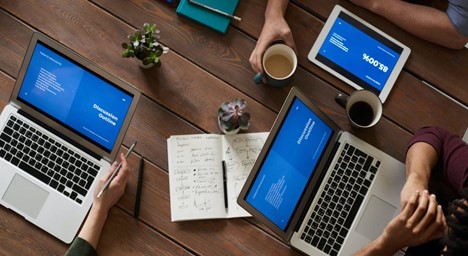 By Chris Tribbey − November 18, 2020
Davis Communications Group: 'Giving Technology a Heartbeat'
For more than two decades now, Los Angeles-based M&E advisory firm Davis Communications Group has helped both public, private and emerging companies retain and grow their client bases via public relations, branding and marketing strategies, find new revenue avenues, and act as an ancillary marketing, communications arm for technology and media companies.
Debra Sharon Davis, president and CEO of Davis Communications Group, Inc. and Davis Content Partners, spoke with MESA about her company's longevity, its longstanding work in the mobile and cybersecurity space, and how communications, marketing and branding models may shift post-pandemic.
Davis: I am most passionate about "giving technology a heartbeat"―"what it means and why it matters." It is important from both a B2B and B2C perspective that networks, studios, distributors, producers, directors, writers worldwide know that MESA's companies help to champion storytelling.
As authors, journalists, and strategists, we develop a company's narrative/messaging: one of the most powerful assets to distinguish a company in a competitive marketplace. We elevate MESA company brands to key stakeholders. Serve as catalysts in delivering growth opportunities and help in launching clients' new products.
We've evolved in many ways. For instance, we've created proprietary products like "branded economics" to align our efforts with a company's revenue goals. For large companies, we support the CMO and communications departments. For smaller companies, we become an ancillary marketing, communications arm.
MESA: How does Davis Communications Group stand out among its competitors? What makes it unique?
Davis: Our customer service product, "AWARE." Customer service is the lifeblood of most businesses. M&E companies depend on it to retain and grow their client base. We have an entire product line that focuses completely on ongoing customer protocols—internal and external communications. Our product includes a proprietary test to understand what clients are experiencing, and how that experience can be made better.
Especially in these times, customer service is a number one challenge for businesses large and small. How can M&E companies adapt to the added pressures and still deliver good customer experiences? People want to feel valued. We know that customer service is a key game-changer for a company's brand, image and growth.
We have a "virtual think tank" of experts from all walks that enables us to anticipate the future and cater to clients' specific needs. We relate to the media from an inside perspective since we have come from the media side as journalists which enables us to deliver results. We have a successful track-record in working with entrepreneurs, CEOs, and engineers.
Our focus is always to take a company to the next level. No matter how big or successful there are always new growth paths to explore.
MESA: Why is it an important time for M&E companies to gain industry recognition and consumer recognition?
Davis: Admirably, M&E companies are juggling so many day-to-day responsibilities in the pandemic. Our value is to help them to get the recognition they deserve in this pivotal time. Our job is to help these companies to tell their stories about how they are providing consistency in the output of media and entertainment products for beloved shows—bringing diversion, comfort and joy to lives in a time of uncertainty. M&E companies deserve to be recognized for being heroes in these extraordinary times. That's why we are so honored to create compelling journalistic pieces about these leaders who may have gone unnoticed. Their work is inspiring. And we need inspiration today.
MESA: What are some of your favorite customer success stories in the media and entertainment space?
Davis: There are many. We underscored the importance of cybersecurity well before 2010. I was the first non-engineer to speak at the Content Protection Summit in 2011, talking about the need for C-Suite and engineers to communicate and how Wall Street would perceive CEOs who utilized cybersecurity as forward-thinking in protecting a company's assets.
We began promoting SVOD and streaming media companies in the very beginning—and how media would be accessible on all devices. We got banks to opt-in to a new technology—transactional platform on their mobile phone—so one's phone could be used as a wallet. And we were instrumental in growing new social media companies.
Another proud win was representing data analytics companies and making data analytics a key budget item for marketers.
MESA: What's next for Davis, what advances and offerings for this industry can we expect from you next?
Davis: We are working with companies in creating communications, marketing, branding models during and post-pandemic. We are advising major social media and virtual conference companies in adding new features and elevating their product offerings—remote conferencing will continue to be a cost-effective part of the business equation long after the pandemic. Streaming media will continue its worldwide growth—and we are developing ways for streaming services to differentiate their brands in the marketplace. It is necessary for long lasting success.
AI and AR will continue to be important offerings. We are also working with tech companies providing backend infrastructure and paving the way for articulating more sophisticated offerings which media and entertainment clients will come to expect.